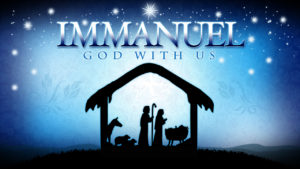 "Even though the fig trees have no blossoms, and there are no grapes on the vines; even though the olive crop fails, and the fields lie empty and barren; even though the flocks die in the fields, and the cattle barns are empty, yet I will rejoice in the Lord!
I will be joyful in the God of my salvation! The Sovereign Lord is my strength! He makes me as surefooted as a deer, able to tread upon the heights. – Habakkuk 3:17-19
The prophet Habakkuk sums up life, doesn't he?
On this Christmas Eve morning, I have been thinking and pondering the things going on around me.
Wrapping gifts for our family members, and remembering that, once again, we won't wrap a gift for our son Bryan.
Unanticipated hits on our budget this year.
Friends who lost their daughter last night, a mom who won't see her children grow up, and won't see them open Christmas gifts.
The state of our country, in light of the Word of God.
The endless political drama.
Several mass killings this year.
I could go on and on, and many of you could chime in quickly, adding your difficulties. There have been some very good places, but 2017 has been challenging. Yet, while it might seem crazy to some, I still have great hope and faith, that God is the strength of my life.
Sometimes it feels like we are on shaky ground, and that at any moment, the earth will open and we will be swallowed up. Habakkuk reminds us that God will cause us to be sure-footed in the treacherous places.
Habakkuk also has a "yet" praise! I choose to have a "yet" praise!
It's easy to praise and be joyful when things are going well. But, the truth of life is, that life won't always go well, even when we serve God. When we face sickness, hardship, challenges and unfairness, and still offer a "yet" praise, it shows that something supernatural has occurred in our lives. It shows that the living God is within us. He is Immanuel, the God who is with us!
Immanuel is with me today! I will celebrate what I DO have this season and not focus on what I DON'T have. Immanuel is with me today! In this season, I choose to go deeper in experiencing the love of the Father who gave His only Son so that I can truly LIVE! Immanuel is with me today! I have received the greatest gift of all – Jesus! I therefore embrace this Christmas season with unprecedented joy! I will have a "yet" praise!
"'Believing God when "the chips are down" is one of the most difficult things that we will ever be called to do. Yet if we trust the Lord only when things are going well, then we do not really trust Him at all. When things are good, let us thank God for His blessings, but also ask Him to sustain our faith if we face real hardship. As we walk through dark times, let us ask Him to help us rejoice in Him and remember that He is our exceedingly great reward." – R. C. Sproul