It's Mother's Day weekend and it's a mixed bag.  I, along with several friends, have lost a child.  I  have one friend who lost two sons, one just a few months ago.  That is tough stuff.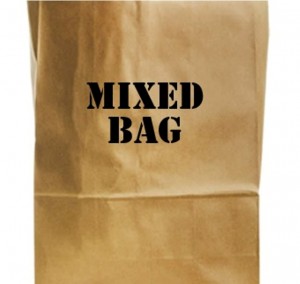 The loss of Bryan was just last year and it is still so palatable.    In a discussion with friends who have experienced the death of a child, I found that some feel guilty because they think they should be very joyous this weekend, yet they are also battling sorrow.  I say you can feel both!
Sorrow and grief are very heavy emotions.  Joy is a light-hearted emotion.  If you are presently experiencing both and could literally place them on a scale, side by side, sorrow will weigh the joy down.  It does not mean joy is not present but the heaviness weighs on it.    I am feeling that on this Mother's Day.  Yet, I feel so much joy when it comes to Michael and Stephen and their families.  I feel such joy when it comes to Bryan's family.   The grandchildren bring a big smile to my face and heart.  Oh how my heart beats for the grandchildren!
I am told by those who have walked this journey longer than I have that it does get better – not that you won't still miss that child – but it does get better.  Thank God for that hope. Thank God for babies being born and new joys filling our hearts.  Thank God for joy in the midst of sorrow.
I can testify that God renews our strength.  He restores us.   The pain of this day will one day give way to the promise and hope of that which is to come.  The day is coming when tears will flow with joy instead of sadness, and all our questions of "why" will fade away in the presence of the Lord.  We will have a great reunion with those whom we love, who have died knowing the Lord.  Oh glorious day!