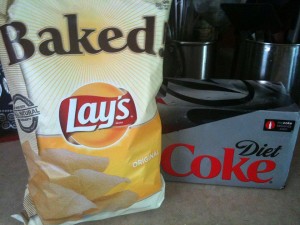 My friend Susan (name changed) and I walk together on a regular basis.  She is young enough to be my daughter but I cherish our time together.  We share the things of the Lord and Susan is eager to pick my brain and truly wants to follow God.  When we first began walking together, things were pretty good in Susan's life.  Then suddenly, the storm began to blow against my friend.  She lost her job and her husband's income was limited.  She was given a six-month severance and we just knew God would give her another job within that period, but that did not happen.
I have grown to love Susan and she shares much of her life with me.  As they faced financial challenges, Susan began to cut back to the bare necessities.  She is trusting God but also using wisdom in how the family spends money.  In one of our conversations while walking, Susan told me that she had stopped buying Diet Coke and Baked Lay's potato chips. The money just could not be spared.  I know that seems like a small thing compared to wondering how you will make the house payment and pay the utilities, but it touched my heart.
Susan has been at my group the last two Wednesdays and she was glad when I gave her a Diet Coke as she walked through the door!  Last week we shared with the group, with laughter, how she wasn't even buying Diet Coke or Baked Lay's.
While shopping yesterday afternoon,  I saw that Diet Coke was on sale.  Into my heart jumped a desire to buy Susan some Diet Coke and Baked Lay's.  I was so excited.  I checked out and got home only an hour before people would start arriving for group.  As I unloaded my groceries I was so disappointed – I forgot the Baked Lay's.  There was no time to go back to the store.  Lord, I so wanted her to know you cared about little things.  You are the God who gives us little surprises!
The group members began to arrive one by one.  One member, Tommye, came in and said, "Hey, I bought Susan some Baked Lay's.  I wanted her to have her Baked Lay's!"  My jaw dropped!  Susan walked in and we gave her Diet Coke and Baked Lay's and she smiled from ear to ear.
I love it when God has big surprises for us, but how sweet when He sends a little surprise along just to let us know He's thinking about us and hears our cries.  It is truly a miracle that the God of the universe pays attention to our tiny, little lives with His loving care.  To think He took time to speak to two different women to bring something to a group, so He could just say to one of his daughters facing turmoil, "I've  been thinking about you and I've got a surprise for you!"
It's not always big and showy, but it is no less a miracle when the God of the universe chooses to show us His kindness.  God has heard your cries, my brothers and sisters.  God is thinking about you and He just might surprise you!
"How precious is your loving kindness, O God!" – Psalm 36:7