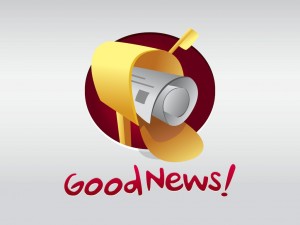 "I am confident I will see the Lord's goodness, while I am here in the land of the living."  Psalm 27:13
I spend very little time listening to the "news" which really should be called the "olds."  It's the same old junk!  In the midst of all of that we are hearing and seeing, I agree with the Psalmist–I will see the goodness of the Lord in the land of the living.
I am happy to report there is good news!  There are people today who are making a decision to trust Christ as Lord and Savior.  There are people rejoicing because they have been miraculously healed of disease.  There are still many couples in love with each other after years of being together.  People are being set free to live healthy lives because they have learned how to forgive!  There are babies who will grow up to be great leaders of God because their mothers chose to give them life!
Yes, I can see God's goodness in the land of the living.  There's more!
There are many people who are giving money to help the homeless and the hungry.  Dream Centers are springing up all over this nation to reach those who have been labeled as the unreachable.  Ministries are helping to free women who have been imprisoned by sex slavery.  Many are walking out of a past of sexual abuse and into the wholeness offered by God.  There are men discipling young men who have no father figure in their lives.  People in horrible circumstances are seeing God make a way where there seems to be no way.
How do I know these things?  Because in the last several months, I have personally witnessed all of these things happening!  Praise God that I can see Good News in a land that is continually concentrating on bad news.  I can see God's goodness in the land of the living.  Rejoice! There is good news!  The Spirit of God is at work today!
And the best news of all … Jesus Christ will return as Lord and King, and those who have accepted Him as Savior will live with Him forever!  I will be so glad to see Him. That is good news!
When will there be any good news?  There already is!