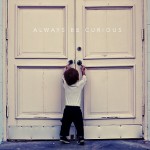 The Benton men do love their college football.  It was fun to have part of the family over for a big game last Saturday.   There was fun, laughter, chatter, food, excitement and nail-biting, but their beloved Tide won!
While the game was being watched, my eyes were opened concerning my 18 month-old grandson Joseph.  I was in the kitchen and everyone else was in the living room.   I heard my daughter-in-law Kelly say, "Oh my!  Joseph just opened the front door.  Get him!"  (Kelly has a broken foot so moving rapidly was not a possibility.)  Someone scooped Joseph up quickly before he got out the door.  The door has a lever handle,  and he simply pulled down on the handle, and was about to walk through a door that he was not mature enough handle.  I learned that day that the front door must be locked at all times to keep Joseph from walking into situations for which he is not ready.
In Joseph's mind, the open door was just what he wanted.  He loves the outdoors, but Joseph did not understand, that the timing was totally wrong for him to walk through the door.  Joseph would have been in a dangerous situation.  Joseph would have wandered with no direction.   The day will come when he will be ready for what is beyond the door, but not at this time in his life.
Open doors in life can mean opportunity, progress and promotion.  But, there are times when open doors close, or sometimes the door just doesn't open at all.  Often we cry out, "God, where are you? Is it all over for me?   Why don't you open the door, God?!"
This cry comes from disappointment or even desperation.  As God's children we need to walk in greater trust concerning the doors that are before us.   Closed doors do not mean that it is the end of the road.  They do not mean that God has stopped caring about our lives.  It is actually quite the opposite.
The key to every door is in His hand.  If you are a devoted disciple of Jesus Christ, and you desire His will in all things, you can be certain that He will open the right doors at the right time.  You can also be certain that He will close doors.  There are times that He does use open and closed doors of circumstances, finances, relationships and many other things to help guide us.
Will you be bold enough to ask God to close all doors except the ones that He wants you to go through? We should never force doors to open, or pull strings to make things work out.  Try not to dwell on the disappointment of a closed door, for like Joseph, we might find ourselves walking through a door that looked so inviting, only to find it was a wrong place for us.
"I know your works. Behold, I have set before you an open door, which no one is able to shut."  Revelation 3:8