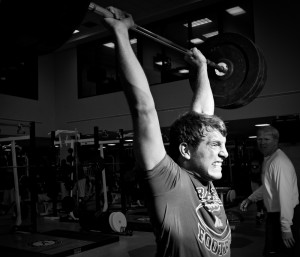 In the state of Alabama, where no pro sports are located, college football is king.   My guys love  University of Alabama football.  Now that we have resided in the state for nine years, I admit that I keep up with the team pretty closely.
When the University of Alabama recruits a high school player, and he accepts that offer, he has just committed to some of the hardest work of his life.   Quite a few of these young men have the potential to play pro ball and that becomes their goal.  When they arrive on campus, they are a long way from reaching the goal.  Many of the players come in undersized and not as well-developed as they need to be to play college ball.   The student athletes arrive on campus and immediately begin a regimen of training.   Then, they must practice, practice, practice, whether it's hot or cold, whether they feel like it or not.   It is painful, repetitive, hard work.   Some get lazy and never reach the potential laid before them.    Some do the hard work and four years later, they don't even look like the same person.  They have matured, and have become strong and disciplined.  They were willing to put the work in to reach the goal.
Our walk with God is the most important journey of life.  I counsel and pray with a lot of people.   It is sad to me how many people want God to just pour blessings out of heaven with little or no involvement from them.    I have always found it interesting that God showed the Israelites the land He was "giving" them, and then told THEM to go possess it.
Too often, people want ministry position, breakthrough in their families, better jobs, greater sense of God's presence … and on and on.  Yet, they don't want to put in the effort required to see the goal reached.  For example, when I have to speak somewhere, it would be so nice if God wrote the sermon and did the research!  He gives me the seed and then I must pray, study, research, write, edit, pray more, travel, pray more, speak the message, pray more,  and then trust Him to bring forth fruit.  Another example – people want God to heal their marriages, but they want to continue treating their spouses in ways that are detrimental to the relationship.
"Faith without works is dead!"
The truth of the matter is that I must cooperate with the Spirit of God and practice the Word of God.   There is a lot of confession, but far too little possession of the promises of God.   I can confess being a size six all day long, but if day-in and day-out I feed a size sixteen, I will remain size sixteen.  (Don't ask how I know this!)
Let us arise.  Let us shake off spiritual laziness and apathy.   Let us do the hard work.    Like those Alabama football players, we won't look the same and will be much stronger.   Let's possess what God has given us.   We must move from confession to possession.  God simply is not going to do it all for us.