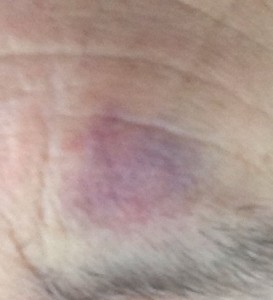 Do you ever just feel like you have been in a fist fight with life?
Gaylon and I went to North Carolina  last week to see Bryan's family.  Bryan is our son who passed away February 11, 2012.  This was scheduled as a time of celebrating Christmas with Sarah and Tucker.   In addition to the celebration, we had a somber task before us. The time had come to go through Bryan's personal items.  Sarah had done some of it, but wanted us to go through some things with her.   Also, we were working together for the wording of Bryan's permanent grave marker.   The right time had come for these things to happen, and we wanted to be a part of helping Sarah.  It was a very emotional weekend for us all.
On Monday morning, Gaylon was sitting in the kitchen beside Tucker while the little guy was eating his breakfast.  He wanted his papa right beside him!   It was a good time for me to take a shower.  As the water was running, and I was just about to step in, Sarah began banging on the door, and in a loud voice she said, "Barbara, Gaylon has passed out and is in the floor!"  I threw my pajamas back on and ran down the hall.  There in the floor lay my precious husband, unconscious, with his eyes open and fixed.  The thought immediately invaded my mind that I might lose him.  Sarah and I worked with him for a minute, a minute that seemed like eternity, and we did get him awake and back in the chair.
In less than five minutes, the same thing occurred again, but I was able to keep him from falling as he lost consciousness.  This time one eye was closed and one eye was open and fixed, but Gaylon was not responsive.  We put a cool rag on his head, and I began to talk loudly to him, trying to get him to awaken.  Poor baby Tucker was crying and upset, and had to be taken to another room.  Gaylon awakened again.   We called 911 and in a few minutes, he was in an ambulance and headed to the hospital, and I followed in my car.
I won't give all the detail, but it appears my husband will be fine, however just above his eye is a nice, purple bruise from the fall.  It was a sign that he had taken a hit in life.
As I got behind the wheel of my car that morning, I was overwhelmed with emotion.  I was tired.  I was sad.  Life hurt so badly!  I began to cry out to God.
Most of us have suffered wounds in life that have left us bruised.   Sometimes they are so tragic that they affect us emotionally for a long time.  There are unexpected turns, and unimaginable things that life brings.
For the believer, there is the blessing of being able to cry out to God.   When life takes turns you never saw coming….God does see it all. He sees where we are, and the pain that overwhelms our weary hearts and souls.  He invites us to give it all to Him. Sometimes I don't even know what to pray, and I love that when I don't know what to say, and the tears are flowing, the Holy Spirit intercedes for me.
"In the same way, the Spirit helps us in our weakness.  We do not know what we ought to pray for, but the Spirit himself intercedes for us through wordless groans." – Romans 8:26
Do you have a tender place where you have taken a hit in life?  Are you bruised?  For sure, life does bring bruises.  I am thankful for faith that can trust God when we simply don't understand life's unexpected hits.  He is with us.  He strengthens us.  He breathes life into us.  He is our Father.
Selah.