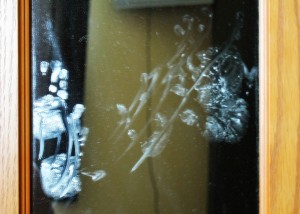 My grandson Joseph teaches me so much about life.  At twenty-two months old, he is such a joy to have when he visits us.   Grandchildren really are the reward for not strangling your own kids!
My master bath has three large mirrors over the counter.  Joseph loves those mirrors.  Recently I picked him up and let him stand on the counter, so he could see himself in the mirror.  He had so much fun talking to himself, sticking out his tongue and making faces.   It was fun time at Papa and Grammy's house!
Later in the day, Joseph went home, and I went around my house picking up toys, putting breakable things back on tables and tidying up a bit.  As I walked into my bathroom, I saw little fingerprints all over the mirror, and a big smile came across my face.  Those sweet little fingerprints were a reminder that Joseph had been there.  Joseph left something behind, something that reminded me how grateful I am for his presence in my life.
While cleaning the mirrors, I was reminded immediately that we all leave fingerprints as we go through life.  I am so grateful to the people who left prints in my life.  There are several "Mothers-in-Israel" who imprinted my life, and helped me become a woman of God.  My husband has left fingerprints all over my heart.  He took a woman as his wife, who was really an abused little girl who did not know how to love and be "normal."  He patiently loved her.  Several friends along the way have definitely marked my life for the better.  The reality is that we all have people who have left fingerprints on our lives.
I want to leave a mark in this life, a mark that says a woman of God was here, a woman who showed Christ-like love and character.  Where are you leaving fingerprints?  The question is not will you leave a legacy, it's what legacy are you leaving?
"Since my youth, God, you have taught me, and to this day I declare your marvelous deeds. Even when I am old and gray, do not forsake me, my God, till I declare your power to the next generation, your mighty acts to all who are to come."  Psalm 71:17-18