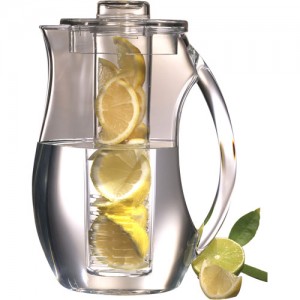 Never have I been a good water-drinker.  I am not a person who is thirsty by nature; so if not careful, I will go long periods without drinking something.  My body has known a lot of dehydration over the years. Once while watching my son play baseball on a very hot summer day, I watched the entire game without drinking anything.  By the time I got to my car, I almost passed out.  The problem was dehydrated living.
Recently, I determined to drink more water.  Determination is wonderful, but it still requires follow through, which did not happen, so I continued to suffer from dehydrated living.
One day I discovered something called an infusion pitcher.  The infusion pitcher takes plain old water and infuses it with flavors from fresh fruits and vegetables.  After filling the pitcher with water, a cylinder is filled with fruits and/or vegetables, and put into the core of the pitcher of water.  The openings in the cylinder allow the fruit to change the taste of the water. Each new pitcher offers new taste and new refreshment.  I now go looking for a drink of that water.  The difference is the core.
So many people are dehydrated in life, and some of those people are believers, God's people.  One can get up every morning out of the same old bed, eat the same old breakfast, drive the same old route to work, do the same routine things, come home to make the same old dinner, watch the same old television and go back to the same old bed, wake up and do it again the next day.
When walking with God, it is so easy to get into a perfunctory relationship with Him. Read a chapter a day in the Bible, go to the same old church, listen to the same old pastor, sing with the same old worship team, go home and do it all over again. That is dehydrated Christian living.  We have lost the core that flavors that walk and gives meaning to "taste of the Lord and see that He is good."
At the core must be a presence of and reliance on the Holy Spirit.  When I invite the Holy Spirit to be present with me as I read God's word, as I worship, as I pray and I walk through life, it destroys spiritual dehydration.   It's easy to jump right in without first inviting His presence.  When the Holy Spirit is at the core, He will open heaven, and give victory from that which sucks the life out of us.  The Holy Spirit will continuously pour into our lives "springs of living water."  Our lives are only as effective as what is at the core.  When the Holy Spirit and His fruit are at the core, the Word comes to life, worship is powerfully intimate, and we experience an overcoming life.
I've said goodbye to dehydrated living!  How about you?
"For I will pour water on the thirsty land, and streams on the dry ground; I will pour out my Spirit on your offspring, and my blessing on your descendants. They will spring up like grass in a meadow, like poplar trees by flowing streams." – Isaiah 44:3-4