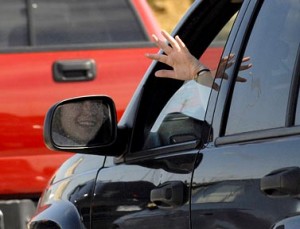 Rush hour traffic in Birmingham is anything but a rush!  It moves at a snail's pace, especially driving into our suburb of Helena.
Helena is a little community away from the hustle and bustle of metro life.  It's safe, quiet and friendly.   The biggest issue with Helena is traffic flow early in the morning and late in the afternoon. There are just a couple of roads leading into our fair city, and none of those are four lanes.  When one gets off the interstate to drive the fives miles into Helena, it can take a while.
Often people are feeding in from side roads trying to get onto the main road, and it's hit and miss whether a person will be nice enough to let you slip into the flow of traffic.  I try my best, when possible, to help someone on a side road merge into the main flow. After they pull in front of me, there's such a good feeling when they throw their hand up in the air saying, "Thank you so much!"  That just feels good!
Recently, I was driving in heavy traffic, and I waved a car into the flow.  The driver merged in front of me, but there was no throwing up the hand to say thanks, no smile, just v-room and on his way!  He did not even bother to thank me.  He just wanted to take what I gave, and be on his merry way!
It is so easy to ride down the road of life, never cultivating a heart of thanksgiving.  If you don't believe that, take fifteen minutes to read the Monday morning posts on Facebook! Posts like – "It's Monday, and I have to go to work. UGH!"
It is easy to murmur, complain, or compare ourselves to others when things don't go our way.  A spirit of ungratefulness can cause us to miss out on receiving what God wants to give us. That's why we need to make thanksgiving a way of life.
What would happen if on Monday morning, we dared to post – "Thank you, Lord, that you have provided me a job!"  Or, "Monday is the day the Lord has made, and I rejoice in it!"
I propose a challenge.  All through the day and week, when we want to complain, let's stop and give thanks to the Lord.  Like those people who throw up a hand to say, "Thanks, for letting me in the line of traffic," let's throw up a hand to say, "Thank you, Lord!"  And, yes, I mean literally wave a hand at God and say, "Thank you!"
Gratitude is a choice. Will you be a part of the thank you wave?
Give thanks to the LORD, for he is good; his love endures forever.   Psalm 118:1