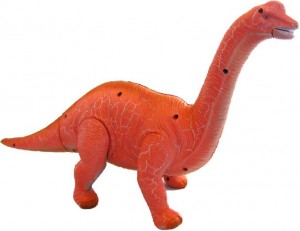 Yesterday I had the pleasure of hanging out with my sixteen-month old grandson Andrew. Andrew is such a joy and loves life.
An assortment of toys are kept at our house just for the grandchildren. It gives them something different from the toys they have on a daily basis. I try to add to the stash occasionally, so a few days ago I bought an orange dinosaur that can walk, flap its wings and make a little noise.
After Andrew arrived I turned on the dinosaur, and it slowly began to move and flap its wings. Andrew was not impressed!  Fear gripped his face. He immediately ran over to Grammy, got right up next to me, wrapped his arm around my leg and clung to me for dear life. I quickly scooped him up in my arms and held him close. I then turned off the toy and put it away. I was in control of that which brought fear to him.
At times there is an ongoing debate among Christians about the subject of fear. Some believe that you have no faith if you have fear. I am not in that camp! Sometimes life can throw uncertainties at us, and fear can jump on us in a New York minute. That does not always translate to a lack of faith … BUT, faith recognizes that God is greater than the orange dinosaurs of life.   Like Andrew, we must quickly run to the Father and cling to Him. We will find that God is ready to scoop us up and give us the revelation that He is greater than the things that bring fear to our hearts.
The next time the orange dinosaur comes walking into your life, quickly run to God. Don't spend time debating with fear. Run to God – RUN! It's amazing how God can turn the dinosaur off!
"Don't be afraid, for I am with you. Don't be discouraged, for I am your God. I will strengthen you and help you. I will hold you up with my victorious right hand." – Isaiah 41:10