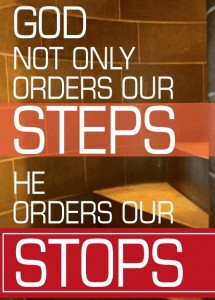 I met a woman who lives not too far from me. As we began to become better acquainted, she spoke to me about being a part of a conference of which she was in charge. It seemed good to me, but I asked for a little time to pray about it.  Several days later,  I got back in contact with her, and the offer was off. She had found other speakers and no longer needed me. I could tell she was a bit miffed and felt I had waited too long, but nonetheless the "deal" was off.
I was a bit disappointed because I often travel far from home. Here was an opportunity to travel less than an hour away!
Shortly after that a group in North Carolina asked me if I would come be a part of their conference, and I accepted the invitation. It happened to be the same weekend as the one that did not work in Alabama.  It was only thirty miles from my son's home, so my husband decided to go with me, and a wonderful thing happened. We, along with the other grandparents, all gathered in the sonogram room, to discover that a grandson was on the way. The smile on my son's face, and the excitement in all of us was over the top!  We enjoyed a lunch together with lots of joy and laughter.
While I spoke at the conference, Gaylon spent the weekend with Bryan and Sarah. They shopped till they dropped and even bought a few baby gifts. It was a great weekend!
Two weeks later we received a call that Bryan had suddenly passed away, and was now a resident of heaven. One of the thoughts that came to me was gratitude that two weeks earlier we had a weekend with Bryan and Sarah. If I had spoken in Alabama, that weekend in North Carolina would have never happened. God knew we needed that final, happy memory of our son as he grinned about having his own son on the way.
Often our schedules get messed up, or our plans don't work out the way we desire. I have learned that God is working in my behalf, and He controls my STEPS and my STOPS. I am so glad He does! I am so glad that my last memory of Bryan is with a big smile on his face.  I am so glad that I can tell Tucker how incredibly happy his dad was to see that ultrasound and find out he would have a son.
Trust God with the steps and stops. He won't do you wrong!
"We can make our plans, but the LORD determines our steps." – Proverbs 16:9