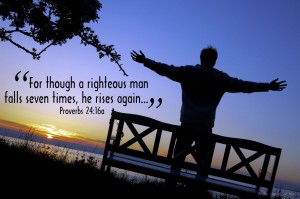 Often when I need to make phone calls, I will go for a long walk. This enables me to get a little exercise, and make the necessary phone calls. Now, come on, you know that's smart!
Yesterday, I needed to make a couple of calls, and I knew they would be a little lengthy, so I set out on a walk that lasted forty-five minutes. As the call was coming to an end, I arrived at my house. I began to walk up and down the driveway until the call was finished.
At one point I was close to the shrubs around the front of my house, and I noticed a dead vine was wrapped around one of the bushes. I decided to stick my foot in the middle of the bushy vine and remove it.  As I jerked the vine with my foot, I found it to be stronger than anticipated. In a matter of seconds, I became entangled in the vine and fell hard to my concrete driveway. OUCH!
As I lay there for a moment, the pain was real and it was sharp. I have cuts and bruises to prove this!
Even though it was painful, I knew my only option was to rise up and walk again. There was nothing beneficial about staying down.
This is life, even for the believer. We walk with God. We move with God. We serve God. It's a great walk, but inevitably there will be falls along the way. Those falls can bring so much pain.
Proverbs 24:16 is very clear: "For though the righteous fall seven times, they rise again…" This verse tells us that believers are not untouched by the falls of life. Even God's people will have times when they have problems, failures, disasters, and adversities. We know the pain of sickness, financial woes, broken relationships, loss and more.
If you are in the middle of a fall right now, don't despair. There is hope! It's easy to think, "I am done; it's all over now." That's not true. You can't see so clearly when you're down on the ground wallowing in the dirt. But, child of God, you will rise up again. The second part of that verse is just as true as the first part! The whole verse is true … there will be times of trouble, but there is triumph in the midst of trouble!
Child of God, rise up! Don't give up, and don't give in. God is on your side, and He will give you the strength to walk again, live again and be fulfilled again.  Today, I rose up out of my bed and started walking again.   There's a little pain in my walk, but this too shall pass.
Circumstances can't keep God's people down. As you go through the ups and downs of life, look for the power of God to meet you there. He will be close-by when you are down. He will give you strength to get back up. Yes, you will rise again!