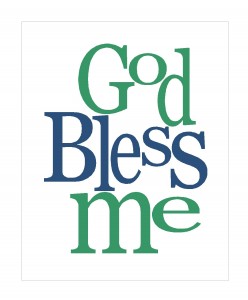 Andrew, my twenty-two month old grandson is a hoot! He is so excited about life, and is so much fun.
While visiting our home, Andrew was down in floor playing with Papa Benton. Papa began to sneeze, and he sneezed multiple times. After each sneeze Andrew said, "Bwess you." Andrew wanted Papa to be blessed! A few minutes later, Andrew himself sneezed, to which he said to himself, "Bwess you."  Andrew didn't just want Papa blessed; Andrew wanted to be blessed.
Actually, Andrew had it right. We should be people who desire to bless others, but we should also be people who are not afraid to ask for blessing on our own lives. His blessing adds influence to my life and allows me to bless others.
We should feel comfortable to ask our Heavenly Father to bless us. If we take a look at the prayer list of most Christians, it would probably include asking God to heal the sick, touch the brokenhearted, transform the hearts of sinners, be with governmental leaders, bless our local church, bless our children, send revival, and be with those who are struggling.
Praying for others is good thing, a necessary thing. It helps to keep us from focusing totally on ourselves. Yet, asking for God's blessing for ourselves should also be a significant part of our prayer lives. With His blessing on me, I have much blessing to give to others.
I need God's blessings on my life. Without His blessing I can never fulfill all that is in my heart. I am in need of the blessing of God on my emotions, my finances, my gifts, my thoughts and every area of my life. I want God to bless me. This shows my dependency on Him, and shows that I recognize that God cares about me and the God-given desires of my heart.
Why not sit down and write or rewrite your prayer list. Include all the names and situations that need God's blessings and His touch. Andrew threw a lot of "bwessings" out to Papa. On your list also include your name.  Andrew also "bwessed" himself.
God, I ask that you would bless me!
"The man said, "Let me go, for it is daybreak." But Jacob replied, "I will not let you go unless you bless me." – Genesis 32:26
"Jabez cried out to the God of Israel, 'Oh, that you would bless me and enlarge my territory! Let your hand be with me, and keep me from harm so that I will be free from pain.' And God granted his request." – 1 Chronicles 4:10