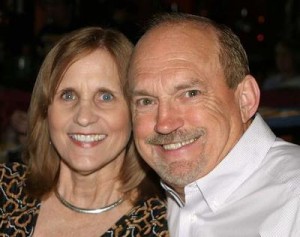 Can you look back over your life and point to an individual or individuals who profoundly impacted your Christian growth?
As I reflect on my forty-seven year walk with God, I can easily name people who greatly influenced my Christian "growth spurts." I can name great women of the faith who created a thirst in me to know God, and to become a true woman of God. Those women discipled me, disciplined me, mentored me, taught me and encouraged me. More than anything, their lives influenced me.
In our house there will be a lot of celebrating over the next few days.  It's Father's Day, my husband's birthday and our anniversary. As I approach Father's Day weekend, I want to thank THE man who influenced my Christian growth. Gaylon Benton, my husband of forty-four years, is one of the greatest Christians on earth. He has actually influenced my life more than all of my female mentors.
Gaylon Benton is a kindhearted, loving man who walks with the utmost integrity. I love to watch him as he rejoices with those who rejoice, and weeps with those who weep. I listen to his voice crack as he talks about his children and grandchildren. I watch tears flow down his face as he talks of missing our son Bryan. I have watched as he is overcome with emotion when praying for those whose hearts and lives are broken. Gaylon loves and loves deeply.
Though Gaylon has never been a famous preacher gracing the covers of magazines, or one who has millions following his every word, he is a man like Enoch. The Bible said that Enoch was a man who walked with God.  I have been blessed to watch a man walk with God.
My life is forever changed because one man dared to walk a life submitted to God. As I have watched him love, care, worship, weep, preach and pray, it has called me to a life of integrity before God.
Thank you, Gaylon Benton!  As the lyrics of a great song say, "Thank you for giving to the Lord.  I was a life that was changed."
Do you have a male or female of great influence in your life? Now's a good time to thank God for them, and even to thank them. Are you a person who is an influence for God?  As you faithfully walk with God, you can have an enormous effect for His kingdom.
I want to be an influencer for God. May it be said of me, "Like Enoch, she walked with God."
"Enoch walked faithfully with God." – Genesis 5:24