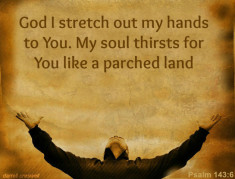 Earlier in the week, I asked who was willing to join me on Thursday for Thirst-day, and many said they wanted to join.
First, we each need a spiritual renewal from God. We need a hunger to return to our hearts spiritually. We must be aligned with the Word of God. Are you thirsty? If so, ask God to fill you. If not, ask God to make you thirsty again.
"Search me, O God, and know my heart; test me and know my anxious thoughts.
Point out anything in me that offends you, and lead me along the path of everlasting life." – Psalm 139:23-24
Wait on God. Sit quietly and ask Him to renew you. Sing to Him in worship.
Second, we need the wind of the Holy Spirit to blow on our churches and leaders. We need more than three songs, a sermonette and go home. We need the wind of the Spirit and the power of God on our ministries and ministers. Our pulpits need an anointing of truth and humility.
Third, we need God to visit this nation again. God, we are so grateful for all you have done for us, but as a nation, we desperately need you
Billy Graham's Prayer for the Nation
Our Father and Our God, we praise You for Your goodness to our nation, giving us blessings far beyond what we deserve. Yet we know all is not right with America. We deeply need a moral and spiritual renewal to help us meet the many problems we face. Convict us of sin. Help us to turn to You in repentance and faith. Set our feet on the path of Your righteousness and peace. We pray today for our nation's leaders. Give them the wisdom to know what is right, and the courage to do it. You have said, "Blessed is the nation whose God is the Lord." May this be a new era for America, as we humble ourselves and acknowledge You alone as our Savior and Lord. This we pray in Your holy name, Amen.