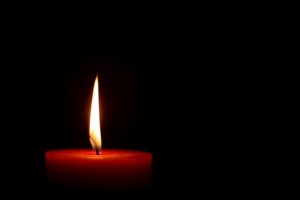 After dinner one evening, my husband and I were cleaning the kitchen together. As I was cleaning all the counter space, I noticed a flaw about two inches long. I was mortified. How did that terrible place get on my nice Corian counter top? I knew I didn't scratch the counter, so who could have done this? Only two of us live in this house.
I asked Gaylon if he remembered messing up the counter. No, he didn't remember.
I scrubbed the place with vinegar and water, but it stayed the same. Gaylon began to scrub.  At one point he stood at a different angle, and immediately the spot was gone. It wasn't a spot at all; it was the sun peeking through the blinds at a funny angle.
I had tried and tried to get rid of the light that was shining on the counter.  No matter how hard I tried, I could not extinguish the light.
We are in strange times in the United States. There is much darkness, and I personally feel there is great spiritual warfare against the message of the Gospel. Our beliefs are under attack, and we are often ridiculed and mocked.
What's the answer? Rants on Facebook and Twitter? Hiding? Staying quiet so we won't upset anyone? The answer is light. "In the same way, let your light shine before others, that they may see your good deeds and glorify your Father in heaven."
The Church of Jesus Christ has always flourished in the face of adversity. Now is the time to stand tall and shine, shine, shine. Don't let fear overtake you, causing you to think the Church will be destroyed. That is not going to happen.
You can't wipe out light or scrub out light. Light just keeps on shining. My Corian taught me that!
It's time to get up and glow.
"Arise, shine; For your light has come! And the glory of the LORD is risen upon you. For behold, the darkness shall cover the earth, And deep darkness the people; But the LORD will arise over you, And His glory will be seen upon you." Isaiah 60:1,2