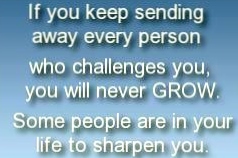 As believers, we all need people in our lives that are trusted friends, friends who will laugh and cry with us, but, who will also tell us when we need correction. Second Samuel, chapter twelve, records a powerful story. King David had committed sinful acts, and tried to cover them up. When the Prophet Nathan came to him, Nathan told David a "hypothetical" story of a sinful man who had done egregious things. Those things were eerily similar to what David was hiding. After hearing the story, David was quick to say, "Kill that man!"  Nathan's response, "You're the man!"
It's interesting how David could not admit to, or even see his own error. The Prophet Nathan was not there to bash David, but to speak the truth of God to him. End of story: David repents, and gets his life back in order.
Nathan cared enough about David to speak the truth in love, risking the relationship he had with David. He was willing to take that risk, so he could help David move to a right place with God and with others. Thank God David was wise enough to accept the correction!
Who do you have in your life, that you will allow to say, "You're the man/woman. You're out of God's revealed will?"  That's a true friend.
"As iron sharpens iron, so a friend sharpens a friend." – Proverbs 27:17