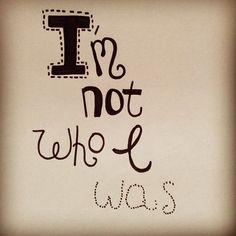 Recently someone from wayyyyyy back found me on Facebook. She asked to be my friend, and I had no idea who she was. After a little research I finally figured out she was a teen when we in our first pastorate. I was actually not much older than she was when we began as pastors of that first, small congregation.
After accepting her friendship, she wrote me a private note thanking me for the seeds sown in her life during that time. I wrote back, thanking her, and then I wrote this, "That was our first pastorate and when I look back, I cringe now at how green we were!"
I am just not the same woman I was over forty years ago when we began our pastoral ministry.
Change has not always been easy for me. I used to make excuses for my tart tongue, my outbursts of anger, my gossip, my comparison of myself with others, my quitting when someone upset me, my prayerlessness  … and on and on. I thought that if other people would straighten up, everything would run smoothly.  I thought that what happened to me as a child entitled me to "show out" when things got difficult.
Eventually God helped me to understand that He is in the life-changing business, but I had to desire life-change. His question penetrated my heart, "Do you want to change and become more like my Son?" After much soul-searching, and acknowledging that my own flesh needed to die, I finally answered, "Yes."
At times, it was beyond hard, and I certainly wanted to scream more than once and quit more than twice!  This old song became my heartbeat:
Change my heart oh God, Make it ever true.
Change my heart oh God, May I be like You.
You are the potter, I am the clay,
Mold me and make me, This is what I pray.
While I certainly have not "arrived," I can join the Apostle Paul in saying, "It's not that I have already reached this goal or have already been perfected, but I pursue it, so that I may grab hold of it because Christ grabbed hold of me for just this purpose.– Philippians 3:12
One of the most powerful prayers that we can pray, and truly mean, has just three little words: "Lord, change me."
Sometimes I look back and say, "Who was that woman?"  I am so glad I am not who I was in our first pastorate!
"Now that you realize how kind the Lord has been to you, put away all evil, deception, envy, and fraud. Long to grow up into the fullness of your salvation; cry for this as a baby cries for his milk." – 1 Peter 2:2