As "Lillian" approached me after a prayer meeting, I was excited by her question.  "I am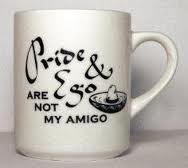 an officer in an organization, and we were wondering if we could schedule you to speak for us next month."  I was so ecstatic.  It was early in my days of travel ministry and each invitation thrilled my soul!  Then Lillian followed her question with explanation.  She said that they were disappointed that the speaker they wanted could not come and now they were desperate, and they thought of me.  I was their "desperation" choice!  I was their "second" choice!
After the conversation, I asked Lillian to give me that day to pray about it, and I would get back with her.  The truth is I wanted the day to seethe about being their desperation choice.  How dare they!  I wanted the day to beautifully craft my words to tell them, "NO!"   I was about to let my pride make my decision.  Ego had stepped up to be my walking partner that day.
As I complained to God, I mean prayed to God, He spoke these words to me, "Have you ever thought that you were my first choice to be there?  Have you given thought that I orchestrated it for you to be the speaker rather than their "first" choice?"  I was about to let pride make my decision.  Ego was quickly becoming my best friend.
How often does God have a plan, and we miss it, because we let pride and ego stand in the way?    Maybe it's a speaking engagement.  Maybe it's marriage enrichment.  Maybe it's a relationship thing.  Maybe it's … you fill in the blank.
I did speak at the event. God did move at the event.  Thank God that I did not let pride make the decision.  Ego and I parted ways that day.
Pride and ego are not my friends, and they are not your friends either!
"O people, the Lord has told you what is good, and this is what he requires of you: to do what is right, to love mercy, and to walk humbly with your God."  Micah 6:8