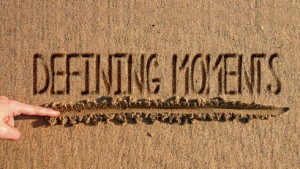 Defining moments in life can mold us, shape us and direct our lives.
Some defining moments can be traumatic, and others can be incredibly wonderful.   For example, after the first instance of abuse at the hands of my father, my life direction and thought process were profoundly impacted.   For years that event and subsequent events molded me to be angry, agitated and headed in the wrong direction.  These events bred a lack of belief that I could ever be healed, and make anything of my life.
I've also had defining moments that were wonderful and changed my life.  Giving my life to Jesus Christ, and going to Southeastern University in Lakeland, Florida, was life-changing for me.  For the first time, I was in a stable, Christian environment, and over time I no longer lived in fear.    Marrying Gaylon Benton and birthing three children were defining moments in my life.  What kind of wife and mother did I want to be?
Did those moments define me?  Not really.  How I responded to those moments determined the course of my life.
Because of childhood abuse, miscarriage of my first baby, church hurt and the painful reality of losing a son, I have the right to be angry.  Mix that with other hurts and betrayals in life, and I have the right to live angry.  But, I did not want that to define my life, so instead I chose to give up the right to live an angry life.
At the age of seventeen, I made a choice to follow Jesus Christ, not just go to church, but follow Jesus Christ.   I chose to let that decision define who I would become over time.    I gave up the right to live angry, and allowed God to give me abundant life.  I do not regret that decision for one moment!  Not one!
Moses could have been defined by the murder he committed, but he was redefined by a burning bush experience.   Peter could have been defined by sinking into an angry sea, but he was redefined by the power of the Holy Spirit, and became a powerhouse for God.   Saul could have been defined by his involvement in the killing and persecution of many Christians.  Instead, he was redefined by an encounter with God, and renamed Paul.
What defines your life?  The negative moments?  Those moments do not have to control your destiny in life.    I am so grateful for a God who offers us defining moments, and once you affirmatively respond to a defining moment from God, you are never the same