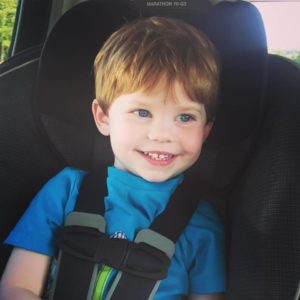 Four-year-old Joseph and I were driving to his house, and it was close to his bedtime.  On the almost half-hour drive,  I talked with him, and sang with him,  to try to keep him awake until I could get him in his bed.
Finally, we got to his house, and Joseph was still bubbly and awake.  We walked up to the house, and I stuck the key in the front door, but it would not turn.  For the next five minutes, I tried almost every key I had, but was unsuccessful in getting the door to open.
Though Joseph had been cooperative, there came a point that he wanted to go inside. Until someone could get me in the house, I took Joseph back to the car so I could turn on the air conditioner.   Since strapping this big boy in his car seat is a bit of work, I decided to sit him beside me in the front seat. After all, we were not going to move.
Joseph looked at me as if to say, "This is not where I belong!"
Before I could walk around the car to get in on the driver's side, Joseph had climbed to the back, climbed up in his seat, and smiled, as if to say, "Now, this is where I should be sitting!"
What seat are you in?  Is it the right seat, or do you need to quickly say, this is not the seat that I was made to sit in?
We should quickly jump out of these seats:
Seat of fear.
Set of anger.
Seat of lying.
Seat of unbelief.
Seat of bitterness.
Seat of unforgiveness.
Seat of negativity.
Seat of gluttony.
Seat of  ___________. (You fill in the blank.)
As followers of Christ, we should be quick to know these are not seats in which God wants us to rest.
We should quickly jump into these seats:
Seat of trust.
Seat of calmness.
Seat of truth.
Seat of belief.
Seat of love.
Seat of forgiveness.
Seat of positive confession.
Seat of self-control.
Seat of ___________. (You fill in the blank.)
Like four-year-old Joseph, as soon as we realize we are in the wrong seat, don't hesitate – JUMP to the seat that God has provided for your best life.
Where will you sit?
"And God raised us up with Christ and seated us with him in the heavenly realms in Christ Jesus." – Ephesians 2:6