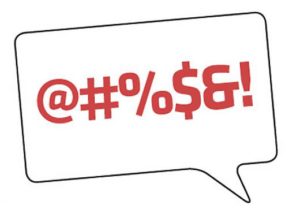 In the third grade, I was not one of the popular girls.  I was poor, dirty and lived on the wrong side of the tracks!  I didn't seem to have a lot going for me, but I was a good athlete compared to many of my peers.  Every day at recess, we divided into teams and played kickball.  Usually all the popular girls would be on a team, and the rest of us were on a team. We always lost!
One day I was appointed to be captain of a team, so we began to choose people to be on our team.  To the dismay of many, I did not do the normal choosing.  I began to actually choose people who could play kickball.  This meant that there was a mixture of "popular" and "unpopular" on each team.  One girl got so mad at me, and gave me a piece of her mind.  I looked at her and said,  **** you, and I don't really care what you think."  I threw in a few more ****s.  She was utterly shocked.
In 1960 foul language was not the norm.  Oh, it was the norm at my home, so I was an expert "cusser" at a very young age; but, still, almost no one just went around cursing in public.  Even I did not, and I knew it was inappropriate!    I paid the price!  I was in soooooo much trouble at school, and my seat was taught that my mouth needed to control what it said.
When I met Jesus Christ as my Savior, one of the first things I did, was work on my language.  I knew that it just did not represent Christ well.  It was a hard habit to break, but with God's help, and my determination, it was a struggle I overcame.  I did not want my mouth to negate my ability to honor God and represent Him well.
While I don't expect this to be my most popular blog, I think it's time to discuss the issue.  What issue?  The issue of believers using profanity.  There was a time when language that we now hear in groups, in movies or posted on social media, would have been totally unacceptable.  Even presidents and politicians think little of throwing out a good old four-letter word.  The culture, over time, has shifted; and now any words are just fine!  Once again, I hope we realize that we are allowing the culture to influence us, rather than God's people influencing the culture.
Although the Bible doesn't explicitly ban the use of profanity, there are scriptures that seem to discourage it.
Here are a couple of those scriptures:
"Don't use foul or abusive language. Let everything you say be good and helpful, so that your words will be an encouragement to those who hear them." Ephesians 4:29 (NLT)  "Avoid worthless, foolish talk that only leads to more godless behavior." 2 Timothy 2:16 (NLT)
There are many others.  Just do some research on talk, mouth, tongue, language, etc.
Let's be honest.  If at my next speaking engagement, I dropped a &*#@!  while teaching, there would be shock waves across the auditorium, and my influence level would drop significantly.  You might say, "Yes, but that's in Church, and that is unacceptable."  We so easily compartmentalize life, yet God should govern all parts of our lives.
Long ago, I knew that foul language was of no benefit to me as a Christian.  The Bible is very clear about the power of words.     I want my words to honor God, and bring life to people.  For me, profanity does neither.
By the way, there are many other wrong uses of the tongue, and I do realize that many non-cursers, say hateful, bitter, demeaning things.  That needs to be cleaned up also!
Although I'm convinced that "cussing" isn't glorifying to God, let those of us who have cleaned up our mouths, realize we are all still overcoming things as we walk with God.  So, let's not be all self-righteous because we don't use profanity.  This blog is not meant to condemn anyone, but it is meant to encourage believers to give a good look at the subject of the mouth, and how it is used.
"Don't use foul or abusive language. Let everything you say be good and helpful, so that your words will be an encouragement to those who hear them." – Ephesians 4:29