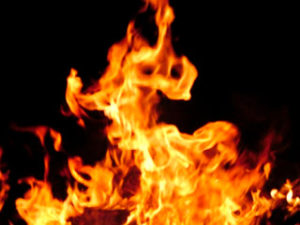 Over twenty years ago, the odds were stacked against me.  I had gone for a routine exam with the doctor, and suddenly things spiraled downhill.  Without giving a play-by-play of the next three weeks, let me just say it was challenging.  After much testing, the doctor determined I was in the highest of categories to have ovarian cancer, and it had spread to nearby lymph nodes.   The odds were not in my favor.
I knew I was ready to meet the Lord, but I still wanted to see my children get married, and meet my grandchildren one day.  We simply called upon the Lord, asking Him for total healing, and left it in His hands.  For me, that was not a magic formula guaranteeing that I would live many more years.  For me, it was a truth that I was going to be healed on this side, or the other side, but regardless, my life was in His hands.
Today, more than twenty years later, I am a grandmother to six, a minister of the Gospel and a child of God!
In chapter three of Daniel, there is a story of three young men who, from a human perspective, faced insurmountable odds.   These men had a choice, bow and go along with the culture, or face grave consequences.
In the face of such odds, their confession was, "Shadrach, Meshach, and Abednego answered and said to the king, 'O Nebuchadnezzar, we have no need to answer you in this matter. If this be so, our God whom we serve is able to deliver us from the burning fiery furnace, and he will deliver us out of your hand, O king.  But if not, be it known to you, O king, that we will not serve your gods or worship the golden image that you have set up.'" – Daniel 3:16-18
Because of the present culture, many Christians are fearful because the odds seemed to be stacked against us. Those in power seem to continue to pressure God's people to bow to the culture.  The heat is being intensified.
When we walk with God, we are not controlled by the "odds." When Shadrach, Meshach and Abednego stood before a fiery furnace that had been made seven times hotter than normal, the king who was in authority, said, "They are going to die! They will bow to what I say, or they will die."
Odds were not in the three young men's favor. But, who ended up being destroyed by the fire? The ones who put the three men in the fire.
Often, as believers, it feels the odds are against us in our society. God is not controlled by odds or the law of averages. In summary: God rules. The process might be uncomfortable and challenging. But … GOD RULES. This I believe.
The odds might not be in my favor, but I am in God's favor!
This is my confession, "My God whom I serve is able to deliver me from the burning fiery furnace, and he will deliver me out of your hand, O king.  But if not, be it known to you, O king, that I will not serve your gods or worship the golden image that you have set up.'"
"What, then, shall we say in response to these things? If God is for us, who can be against us?" – Romans 8:31