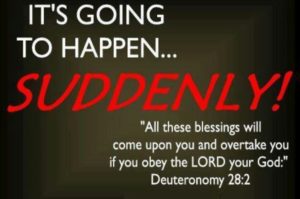 To protect the privacy of others, I'll change details slightly, but this is a true story, and happened within the last thirty days.
Friends that I love deeply have gone through a difficult time, that has lasted a very long time.  It has been a matter of prayer every day for way more than a year.  Sometimes the burden has felt heavy, and sometimes, I have wanted to cry out like Habakkuk, "How long, LORD, must I call for help, but you do not listen?" 
As I have walked with the Lord God for fifty years, one of the things I have learned, is to be faithful – faithful when I feel like it, faithful when I don't feel like it, faithful when I see God at work, faithful when I am seeing nothing, faithful when I am hearing from heaven, faithful when it seems heaven is brazen and my prayers are falling right back into my lap.
Months and months have gone by, as we have cried out to God with, and in behalf of, our friends. Hearing nothing, and seeing little, we faithfully obeyed, "And pray in the Spirit on all occasions with all kinds of prayers and requests. With this in mind, be alert and always keep on praying for all the Lord's people." – Ephesians 6:18
Then … SUDDENLY!  (Suddenly after months of prayer.)  SUDDENLY, God intervened in the situation and did wonders.  I have cried tears.  I have laughed. I have knelt before God in thanksgiving.  But most of all, I have been reminded that the God of "suddenlies" can show up, and instantly change situations.
Never did I dream, that I'd wake up that morning, and before the sunset, God would suddenly change things.  SUDDENLY.
When Joseph was sold into slavery by his brothers, he could not have imagined how long his trial would last.  Then "suddenly" he woke up in his prison cell, never realizing this was the day God would fulfill destiny.  SUDDENLY, after thirteen years of faithfulness.
When the Jesus told the disciples to go to Jerusalem and wait for the Holy Spirit to come, they faithfully went to Jerusalem.  The story is recorded in the book of Acts.  They began to pray and wait upon God. Then "suddenly" the Holy Spirit fell upon them – SUDDENLY after ten days.
How long  does suddenly take to appear?  That is up to God. Nevertheless,  we do serve the God who hears, and suddenly shows up.  Many times, we have sat in God's waiting room, doing what He told us to do.  Often we have done it faithfully, but frustrated.  It is in those moments that God shows up when we least expect it, and SUDDENLY He throws us a game changer.
Are you frustrated today?  Are you wondering if God is even hearing you?
Many times, those mountains that seem to consume us are just little mole hills that the devil has magnified.  Feed your faith, connect with God and wait for the SUDDENLY.  It is coming.
"And suddenly there was a great earthquake, so that the foundations of the prison were shaken: and immediately all the doors were opened, and every one's bands were loosed." –  Acts 16:26