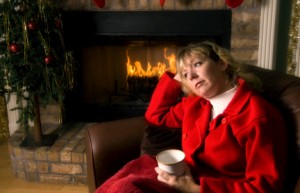 Like so many others, I enjoy the sacred parts of Christmas, and the fun parts.  I love nativity pageants with children waving at parents, picking their noses, or dropping the baby Jesus on his head!  While some kids will be perfect angels on stage, others will cause their parents to crawl under a pew!
I love a Christmas Eve candlelight communion service.  The softness of the music, and everyone's thoughts united on the true meaning of Christmas, cause one to sense such a sweet presence of God.  It is one of my favorite services.
It's the most wonderful time of the year!
Yet, for many who love God and understand the true meaning of Christmas, it's hard this year.  Many are suffering from grief and loss.  Many have mourning on Christmas morning.  For those suffering with deep grief and sorrow this Christmas, may I just express a few thoughts?
First of all, I feel your pain.  When we love someone deeply and are accustomed to having that person as a part of our holiday celebration, there is a hole when they are gone.  It is painful.  Last year was our first year without Bryan.  Though I love God, and I am deeply committed to Him, I went through the motions of celebrating last year.   I was trying to "be there" for the rest of my family, but I was so overcome with sorrow.
As I have gotten older, I don't decorate as much as I once did.  Last year I did no decorating.  My family kidded me about it, but I never told them that I could not bear to decorate.  It's okay not to "feel" like doing some of these things if you are in grief.  It's also okay if you do feel like doing some of these things.  In this our second year without our son, I have made my home more festive.  I literally cried the whole time I decorated, but that is okay.  I am now enjoying the beauty of Christmas.  I love the joy I see in my grandchildren when they see the lights, the Santas, the two nativities – one which plays music, the Christmas train and all the rest of the trimmings.
I am praying for those who are dealing with this kind of grief and loss.  God is hugging you today.  He understands where you are, and He cares about every tear.  Jesus Christ left the splendor of heaven, and was born as a babe into a world that was dark and broken.  He became Immanuel – God with us.    NEVER, NEVER, NEVER WILL JESUS LEAVE US!  He will be with us in good times and bad times, in sickness and in health, in success and failure, in poverty and prosperity, in joy and sorrow.  He will be with you if you are mourning on Christmas morning.
"A virgin will conceive and give birth to a son, and they will call him Immanuel, which being interpreted is, God with us."  Matthew 1:23