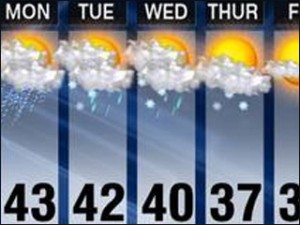 Sweet home Alabama!  It's where I hang my hat.  Here we enjoy southern charm, good food, sweet tea, and friendly folks.  Generally the winter season, in my part of Alabama, is cool and mild, with rare occurrences of freezing rain and snow.
Yesterday, the weather forecasters had us all ready for one-half inch to one inch of snow.  Of course, school was on delay, and kids excitedly anticipated having a little snow for sledding, and building a snowman.  As we awakened this morning, the temps were cold, not a flake of snow was to be found.  The weather forecasters spoke a word over our future, but it was God who determined the future.  God had the final say on where the snow would fall.
Many are struggling with the forecast that someone has spoken over their lives.  Daddy said I was going to be nothing.  My ex-spouse says I will be miserable the rest of my life.  Someone told me that the anointing has left my life.  Devilish imps tell us that God will not see us through the hard places. The forecasts can be endless.  Gaylon and I have literally had it "prophesied" that our marriage would not last.  (That was thirty years ago and we are still together!)  Someone else told us, "God said you are polluting the pulpit, and He is going to remove you."  I could go on and on about the forecasts of life!
Words do have power.  I believe that.  I understand that. "BUT GOD!"  What someone else says about my life does not determine my future.   I walk with the Living God, who is active and alive in my life.  His Word takes authority over any words given by others.  As I read and believe God's Word, then I get the accurate forecast over my life.
God's forecast says:
"But all who listen to me will live in peace, untroubled by fear of harm." – Proverbs 1:33
"All things work together for good to those who love and serve Him faithfully." – Romans 8:28
"God has not destined us for wrath, but to salvation through Jesus Christ." – 1 Thessalonians 5:9
"He who began a good work in you will bring it to completion!"  – Philippians 1:6
"Ask me, and I will make the nations your inheritance." – Psalm 2:8
"My God will meet all your needs according to the His riches in glory." – Philippians 4:19
"The LORD will perfect that which concerns me…" – Psalm 138:8
"Commit your way to the LORD; trust in him, and he will act." – Psalm 37:5
"Faithful is He who calls you, and He also will bring it to pass." – 1Thessalonians 5:24
"The beloved of the LORD shall dwell in safety by him; and the LORD shall cover him all the day long." – Deuteronomy 33:12
This is only a partial forecast.  Many are the promises of God for His people!
What words or thoughts have put a cold forecast over your future?  God has the final say, and the correct forecast, and His forecast is, "For I know the plans I have for you," says the Lord. "They are plans for good and not for disaster, to give you a future and a hope."  – Jeremiah 29:11
Whose forecast will you believe?