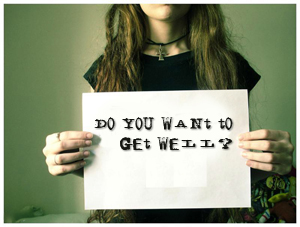 When Jesus saw him stretched out by the pool and knew how long he had been there, He said, "Do you want to get well?" The sick man said, "Sir, when the water is stirred, I don't have anybody to put me in the pool. By the time I get there, somebody else is already in." – John 5:6-7
Last year I had a bout with pneumonia.  It started out as a common cold, but over time it was evident that something had taken hold of my body.  Each day got progressively worse, with my temperature getting higher and higher, my body getting weaker and weaker.  Gaylon suggested I go to the doctor, but I stubbornly refused.  I could handle this.  I don't need doctors or medicine.  I could rest on my bed, and things would take care of themselves.  By the end of the sixth day with a temperature of 105 degrees, and a body so weak I could barely walk down the hall, I realized that the root cause needed to be cured.  I was ready to get well, so I got up and went to the place of healing.  In just a matter of days, life was new.
Picture this scene: A man lying beside the healing pool of Bethesda.  He had been sick and paralyzed for 38 years.  He had been lying on a mat, day in and day out, a mat that was probably about three by five.  Jesus walks by and says to him, "Do you wish to get well?"  Could there be a dumber question than that? I mean, for 38 years, people have been bringing him on his mat, laying him there by the pool, hoping he could be healed. Then Jesus comes up and asks him if he wants to get well!
Why in the world would Jesus ask a question like that?
The man was living life from a three by five mat.  He had become used to his three by five world.  He couldn't see beyond his three by five life.  It had caused him to develop a life of dependency.  It was everyone else's job to be sure he got what he needed in life.  Dependency is very addictive.  As a matter of fact, when Jesus asks if the man desires healing, the man answers by telling Jesus why he cannot be healed.  He cannot be healed because of what someone else did not do, or what others did do.  I even wonder if he liked his mat because it got attention from others.  Was he in a three by five world of self-pity?
Jesus ignores what the man said, and simply tells the man:  stand up by faith, pick up that three by five world that has you trapped, and walk in healing.  It took faith to believe Jesus, but the man stood, picked up that mat of dependency and walked towards the new life offered by Christ.  He walked away from the old thoughts and actions that had paralyzed him
Jesus is still asking the question, "Do you want to get well?"  As dumb as that might seem, it's a question that all of us must answer.  Too often our answer is what the pastor did to me, or what my dad did to me, or the unfairness of life, and on and on.  Does Jesus care about that?  Absolutely!   Jesus also cares that you are not trapped in a three by five world, a world that requires your victory in life to be controlled by dependency on what others do, or do not do.
God is inviting us to walk away from our three by five world. He is offering the opportunity to have real power to change our patterns of behavior. God is offering us freedom from whatever it is that has us paralyzed. Let's step out of our comfort zone and say "yes" to His invitation to live the abundant life He intends.
Stand up! Pick up that mat!  Walk towards the new life God has for you!