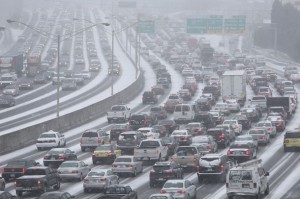 Grandchidren are just that – GRAND! Can I get an amen!
Gaylon and I are blessed with four grandchildren. Two live in the Birmingham area. One lives six hours to our west in Baton Rouge, LA, and one lives seven hours to our east in Hickory, NC.  In order to be a vital part of their lives, there is a whole lot of travel involved.
On the weekend of January 25, we made the trip to North Carolina to visit with Tucker and Sarah. Tucker is so much fun. He's a vibrant, full-of-giggles kind of boy, who loves his papa. We had a blast. Our plan was to return to Birmingham on Tuesday, January 28. We were aware that a winter storm was predicted to hit parts of the south, so we kept an eye on the weather forecast.  As we went to bed on Monday night, the last thing I did was a final check on the weather.  At that time, the storm was predicted to give Atlanta a dusting in the afternoon, and Birmingham about the same. We were good to go!
Without checking the updated forecast, early Tuesday morning we departed North Carolina headed home.  By leaving very early, we were sure to arrive home before any ice or snow arrived, or at least accumulated on the roads. So, we set out on our journey.
When we were about thirty minutes from Atlanta, a few light snowflakes began to fall, and by the time we got to Interstate 285, snow and sleet were falling a little heavier. Traffic was already crawling about five miles an hour.  Though we did not like going so slow, we had no choice, and decided we would have to patiently take three hours to go around Atlanta. Long story short – that twenty-mile distance around Atlanta became a ten-hour trip. It was evident we were not getting home that night, and we were not sure we would even get off the interstate. People were abandoning cars; cars ran out of gas; vehicles were barely moving. Several hours earlier we had a friend prepay a hotel for us, so we would have someone to stay, but even getting to the hotel was questionable. Thank God we did get to our hotel about 10:30.  We were stuck in a rundown hotel for two days. On the third day, it was time for resurrection!  While it was still a bit icy, and would require careful travel, we got up with our minds set on moving forward.  We made a decision not to be stuck one more day!
It is one thing to get stuck in the winter weather, but quite another to get stuck in life.  The truth of the matter is that being stuck is the case for scores of people. Like the Israelites, too many of God's children started out on a journey with Him, and now they are stuck in the wilderness, short of their promised land:
Stuck in past failures
Stuck in church hurt
Stuck in grief
Stuck in a lack of faith
Just stuck
While God always loves us, God takes no pleasure in a derailed Christian who is has resigned themselves to living  sad, dejected, downcast and dispirited.  God's call is for us to stop allowing outward things to prevent forward progress.  He wants us back on track with Him, full of the Holy Spirit, moving forward as a force for Jesus Christ.
God isn't the Great I Was, but the Great I Am.  He desires for you and me to live in the present, not the past. God is calling us to press on with the Lord, in obedience and in the power of the Holy Spirit.  Yesterday is gone, and tomorrow may never come, so all we have is today.  The Great I Am wants you to walk with Him today.  He wants to bless your life, and He has powerful work for you to do where you are planted. His plan is that you will be a living, vibrant child of God who reflects the Great I Am.
So, the next time someone's words, life's circumstances or huge disappointments threaten to get you stuck, remember who you are, whose you are and where you are headed. There isn't a person or thing in your life that is worth your getting stuck, and missing the fullness of what God has in store.
You don't have to be stuck one more day!
"Brethren, I do not count myself to have apprehended; but one thing I do, forgetting those things which are behind and reaching forward to those things which are ahead." – Philippians 3:13