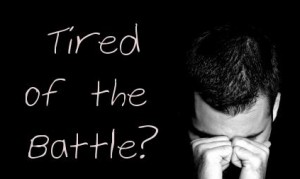 Right now I am not being oppressed by discouragement, but that has not always been the case. I could tell stories of times when discouragement pleaded to be my best friend, and pleaded daily.
There are two schools of thought on discouragement. Some say God's people should never be discouraged; after all, they are God's people. Others believe that there are times of discouragement that will come, and as God's children, we must choose to stand on the Rock.  I embrace the latter.
While I know that God is with me, sometimes fierce battles seem to drag on, with no end in sight,  and it gets discouraging. In scripture, the devil is sometimes referred to as the "dragon."  If the word "dragon" is divided it would look like this:  "drag-on."   The dragon  wants to discourage you, and cause you to give up.  When battles drag on and on, it can cause discouragement to pelt against us day after day. Sometimes we find ourselves asking what the Psalmist asked, "How long, O Lord?"
Ephesians chapter six gives us a list of armor that God has provided. At the end of the list, He says when you have done all you can do, then, just stand! That is encouraging to me. God is saying that there will be times when we have done all we can, and at that point, just stand in what God has provided.  What a secure place in times of battle!
God has given us all the resources we need in order to stand in times of discouragement. He can't make us stand. That is our choice. But, He has given us the needed tools to stand firm, tools such as His promises, His Spirit, His armor, His presence, His people, His love, His strength and many other things.
Are you discouraged today? Use the tools and choose to stand. Speak aloud that God is in control, and He is for you! Talk with someone and ask them to pray with you. Choose to stand!
"Therefore take up the whole armor of God, that you may be able to withstand in the evil day, and having done all to stand." – Ephesians 6:13