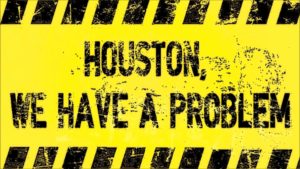 Houston, we have a problem!  Gulp!  Houston and I had a big problem last week.
Last weekend, I was scheduled to speak in Spring, TX, which is a suburb of Houston.  When finalizing arrangements, I was considering flying into Houston Lobby International.    In talking with my hosts, I discovered that Hobby was a long way from their destination, so we agreed I'd fly to Bush International.  My preferred airline does not fly to Bush International; therefore, I booked with a different airline, and completed travel arrangements for Spring, TX.
This past Thursday,  I was completing all the things that I needed to get accomplished prior to leaving on Friday morning.  I had all my messages done and in my brief case, along with my Bible and computer.  My boarding pass was downloaded.  I had most of my clothes packed, and the rest laid out and ready to go.  I sat down to do my nails. (Hey, I am a woman speaker, who talks with her hands, so nails are a must do!)
I was feeling so good that I was organized, and on target for an early bedtime.  Yay me!
As I was sitting, waiting for my nails to dry, I received a message from a friend, who wanted to know where I was going to be in the Dallas area.  I told her I would be in Spring, TX. She informed me that was near Houston.
With panic in my heart, I looked back, and sure enough, I had booked the wrong airport.  What was I thinking!  The Dallas airport was a four-hour drive from Spring, TX.  If I rented a car, I might make the evening meeting on Friday, but there was no way I could get back to Dallas in time to fly home.
I feverishly began to try to change my ticket, but after a while, it was evident, that I could not get there in time for the evening service, and it would cost me about a thousand dollars.  Gulp!  So, Gaylon and I decided we would get up at 4:00 a.m and make the ten-hour drive.   I am a woman of my word, and I was going to Houston to honor my commitment. There was no way I was leaving that church in a bind!
How I hated to inform Rachel, my hostess, about what I had done.  I had never, in all my years of ministry, made such a blunder.   What would she think?  I hated to put her in a stressful thought pattern.
Rachel was beyond gracious.   She insisted that we reschedule, and that God would provide for the weekend.  I tried every way I could to persuade her to let me drive, and get there.  She assured me that she was not stressed at all, and that God would take care of things.  So, I stayed home, with a red face!  I still could not believe I made such a blunder.
During the weekend, I read Facebook posts, and texted with Rachel. They had a wonderful weekend.  (How could they have a wonderful weekend without me?)  Yes, God provided, and Rachel has given me a rain check to reschedule.
What did I learn from this?
We are all subject to error even if we are diligent, honorable people. We must forgive ourselves for our errors.  Even in our mistakes, God can provide.
While God will use us, we are not indispensable to His plan.  He can work when we are present, and when we are not.  It's not by might, not by power, but by His Spirit.
Thank God for the "Rachels" of life, who don't fume, go into a rage or disown a person when an error is made. Rachel was quick to realize that this was not a surprise to God, and He would provide.
When you are in a situation in life that screams, "Houston, we have a problem," stop, breathe and look to the One who has the power to work despite our problems.  After all, heaven does not have a problem!
"So Abraham called that place The Lord Will Provide. And to this day it is said, "On the mountain of the Lord it will be provided." – Genesis 22:24