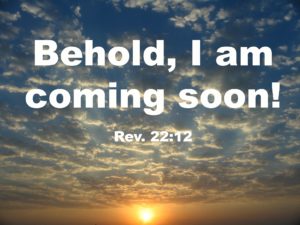 After keeping one of my grandchildren, my son asked me a question.  "What is different about keeping my child, than keeping your own children?"  My answer, without hesitation, "I am very aware they are your children, and I don't want anything to happen to them under my care."  That conversation took place several grandchildren ago.
Yesterday, I had my grandson Joseph visiting.  "Papa" was not home from work yet, and Joseph kept asking for him.  Joseph does love his Papa!  He will jump up and down with joy when Papa finally arrives.
Usually I know where Joseph is, because he sticks fairly close to where I am in the house.  I noticed things were quiet, and I called out for Joseph.  No answer!  I called again. Nothing! This is unusual, so I began to look around the house for him.  No Joseph!  Gulp!  Finally, I noticed the door leading into the garage was slightly ajar, and the garage light was peering into the dark laundry room.
Joseph was in the garage waiting for Papa to drive up, and open the garage door.  (He was in no danger because Papa doesn't park in the garage.)  I went out to check on him, and he said, "Want to see Papa."
Joseph was in the garage, waiting with great expectation for the return of the one he loved so much – his Papa.
Forty-eight years ago, I gave my heart and life to Jesus Christ, the Savior of the world.  Over those years, He has changed me, healed me, walked with me, touched my hurting heart and loved me.  It is easy, as life wears on and difficulties arise, to forget that Jesus has promised to return for us.  This is not my final home.  This is my temporary home.
As I watched Joseph wait with anticipation, for the return of Papa, I was reminded that one day Jesus Christ is coming back.  One day, believers on earth will jump with joy as "the garage door of heaven opens," and Jesus calls us home.
Thanks be to God for His Son Jesus Christ, who died for our sins, and made a way for us to live eternally with Him.  Jesus Christ is the way through the door that leads to eternal life with God, and ready or not, He is coming!   Please be ready, by accepting the Lord as Your personal Savior.
I am a lover of worship choruses, and I attend a church that sings mostly choruses.  I think from time to time, it would do us well to be reminded, we are just passing through this place on earth.  Pull out an old hymn, and  sing with expectation:
And Lord, haste the day when my faith shall be sight,
The clouds be rolled back as a scroll;
The trump shall resound, and the Lord shall descend,
Even so, it is well with my soul.
"For the Lord Himself will descend from heaven with a shout, with the archangel's voice, and with the trumpet of God, and the dead in Christ will rise first. Then we who are still alive will be caught up together with them in the clouds to meet the Lord in the air and so we will always be with the Lord. Therefore encourage[l] one another with these words." – 1 Thessalonians 4:16-18