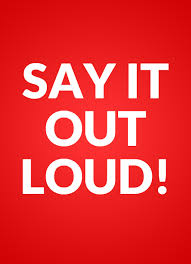 We often quote or see quoted: "Behold, I am doing a new thing and it springs forth."   Many pastors will preach/teach from this very verse as we enter 2015.
What is rare is to see more of the context quoted, and we need to see it.   Isaiah 43:16,18-19: "Thus says the Lord, who makes a way in the sea, a path in the mighty waters, "Remember not the former things, nor consider the things of old. Behold, I am doing a new thing; now it springs forth, do you not perceive it? I will make a way in the wilderness and rivers in the desert."
God is stating that He is a God who parts the waters to make a path when there seems to be no path. He promises that He will do a new thing, even if it requires blazing a path through the wilderness, or bringing a river to a desert.
Perhaps you don't even feel like hearing "Behold I am doing a new thing."  Perhaps you are thinking, "But look at this wilderness I find myself in.  I am drowning in the river of life.   It will never end!"
There is good news!!! God's promise came in the midst of acknowledging that life takes us into the wilderness, and into waters over our heads.  God did not pretend it was all roses and chocolates.
As you enter 2015, talk to God about His promise and His declaration. "God, I find myself overwhelmed in life, but I stand in faith that You have declared that You are doing new things – things that might require a path through the sea or water in the desert."
Now is the time to claim a new beginning and believe God can/will do a new thing in your life and your circumstances.
This is what I shall declare every day over my life in 2015:  "I declare that God is still the way-maker, the miracle worker, the provider of that which I need, the God who loves me, the God who cares about that which concerns me, the God who moves mountains, the God who heals, the God who restores, the God who works all things together for good,  the God of the open door, and the God who is going to do a new thing."
Have you lost hope that anything will ever change? Take God at His word and declare it aloud, and continue declaring it.  Allow God to show Himself mighty in your life.
He is your God, and you are His child.  Now it's time to say it out loud!